DELACHAUX IN CHILE
In 1876, Léon Delachaux started at the Pennsylvania Academy of the Fine Arts in Philadelphia under the guidance of Thomas Eakins. Delachaux began showing his work in the United States in 1879 and continued to exhibit coast to coast until 1915.
He also, however, exhibited his work beyond San Francisco [and the borders of the United States]; his pictures travelled on to South America to be shown in the large international exhibitions held there in the early 1900s.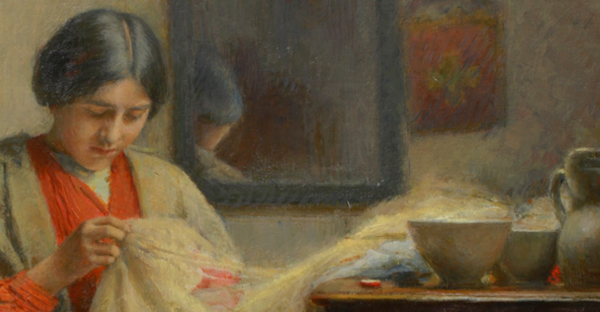 Léon Delachaux, La Lingère (Costurera), (detail). Chile – Santiago – Museo Nacional de Bellas Artes
One such exhibition was the Exposición Internacional del Centenario held in Santiago in 1910 to commemorate the hundredth anniversary of the Chile's independence. The Chilean journalist, Alberto Mackenna Subercaseaux, an intellectual of French descent, was one of the founders of the exhibition and its chief administrator. In his book Luchas por el Arte, he recounts his voyage to Europe and makes a case for bringing European and North American art to the Chilean public as a means to elevate national taste – an idea that, in the late nineteenth and early twentieth centuries, was widely held among the Chilean elite.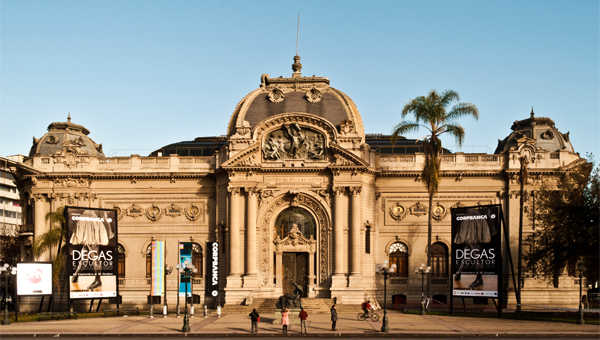 Chile – Santiago – Museo Nacional de Bellas Artes
Of the 1600 foreign works exhibited, 65 works by French artists were acquired by the museum; the Comité permanent des Expositions françaises à l'étranger, a committee presided over by the painter Léon Bonnat (1833-1922), brokered the transaction.
La lingère (Costurera), was part of the acquisition.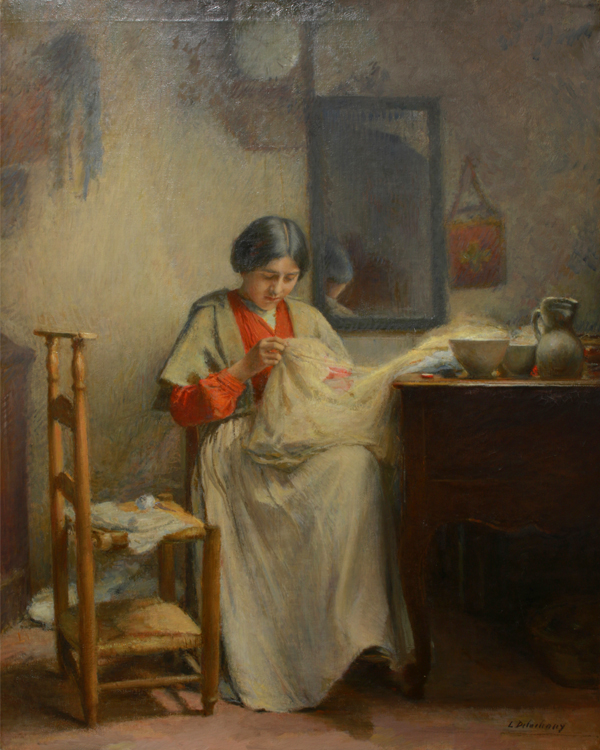 Léon Delachaux, La Lingère (Costurera), c. 1909, oil on canvas, 63.5 x 51 cm. Chile – Santiago – Museo Nacional de Bellas Artes
Natalia Keller, head of research of the Department of Collections at Santiago's Museo Nacional de Bellas Artes, describes the piece in these terms:
"The seamstress sits in a humble interior, surrounded by everyday objects: bowls and jars arranged atop a chest of drawers, sewing accessories placed on a chair, and on the back wall, barely discernable, hang a large wall clock and mirror. The picture represents the archetype of the model housewife, and a woman's role in society as defined by the authorities of the new Chilean republic at the beginning of the century."
In January 2017, Marie Delachaux, President of the Léon Delachaux Endowment Fund, met with Natalia Keller at the Museo Nacional de Bellas Artes where she was shown her great-grandfather's picture. The outcome of this meeting launched a partnership between Santiago and Paris.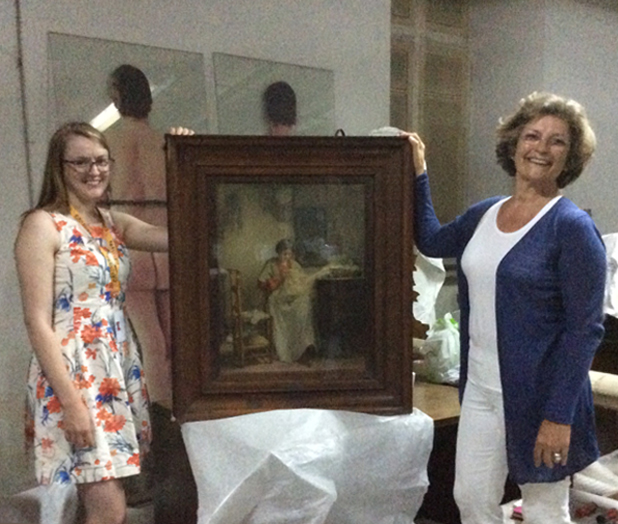 Natalia Keller and Marie Delachaux, January 2017. Chile – Santiago – Museo Nacional de Bellas Artes

/ / /
/ / /
/ / /