Léon Delachaux (1850-1919), Exhibition history: 1879 to the present day
During his lifetime: 1879 to 1918
As a Swiss, American and then French national, Léon Delachaux always took great care to ensure that his artwork was exhibited at the official salons, in galleries or internationally with the help of exhibition curators. From 1879 to 1918, he was able to create an impressive national and international network, taking part in more than two hundred exhibitions worldwide.
Léon Delachaux was introduced to painting after arriving in North America in 1872, and studied at the Pennsylvania Academy of the Fine Arts in Philadelphia under the guidance of Thomas Eakins (1844-1916). It was in America that he first exhibited his paintings and watercolors. From 1879 to 1916, he took part in international exhibitions in Philadelphia, Pittsburgh, Boston, New York, Washington, Louisville, Utica, Indianapolis, Chicago, Worcester, Saint-Louis, New Albany, Salt Lake City, Seattle, San Francisco and in Toronto, Canada.
In Paris, Léon Delachaux easily entered the Salon des Artistes Français, participating from 1884 to 1890 at this central and predominant institution of international importance known as the Salon. In 1887, he was awarded an honorable mention for his Crux Ave à Pâques (Kunsthaus, Zurich, Switzerland).
From 1891 to 1914, he exhibited at the Salon de la Société Nationale des Beaux-Arts, becoming an associate member in 1895 and a full member in 1901. He was a member of its art review committee in 1903, 1904 and 1909.
In 1889, entered as an American national at the Paris Exposition Universelle (World's Fair), he received a bronze medal for his picture La Louée à Château-Landon (Musée de La-Chaux-de-Fonds, Switzerland). However, at the 1900 Paris Exposition, where he also received a bronze medal, he was listed as a French artist.
As a well-known artist, Léon Delachaux took part in a number of group exhibitions at galleries in Paris: Galerie Silberberg (1903) and Galerie Georges Petit (1898, 1910, 1912 and 1915). He was also present at the Galerie Georges Bernheim, in a 1916 exhibition to benefit wounded soldiers.
His confirmation as a recognized artist came when the French government acquired his work – six pieces between 1899 and 1913. Included among them was La Lingère (1905), which was exhibited at the Luxemburg Museum.
In the French provinces, exhibitions organized by the very active Sociétés des Amis des Arts gave him notable exposure in Nantes, Fontainebleau, Le Havre, Lyon, Bordeaux, Reims, Amiens, Strasbourg, Douai, Roubaix-Tourcoing, Périgueux, Nîmes and Pau.
He also gained exposure elsewhere in Europe through exhibits featuring works by French and international artists. Delachaux's work can be found in Brussels, Ghent, Monaco, Berlin, Düsseldorf, Essen, Munich, Stuttgart, London, Liverpool, Edinburg, Venice, Rome, Helsinki, Prague, Poznan and Barcelona.
Originally from the canton of Neuchâtel, in Switzerland, Delachaux partook from 1887 to 1894 in group and traveling exhibitions organized by the Société Suisse des Beaux-Arts, commonly known as Turnus. He sent paintings and drawings to Basel, Winterthur, Zurich, St. Gallen, Schaffhausen, Konstanz, Bern, Aarau, Le Locle, Lausanne, Glarus, Solothurn and Lucerne. His work appeared in exhibits organized by the Société des Amis des Arts de Neuchâtel et de La Chaux-de-Fonds, as well as the Exposition nationale des Beaux-Arts of Bern and the Exposition municipale des Beaux-Arts of Geneva.
In Switzerland alone, from 1886 to 1903, Delachaux took part in close to fifty shows.
In 1910, his Costurera was shown in South America at the Exposición Internacional de Bellas Artes in Santiago de Chile, where it remains to this day.
In Asia, Delachaux exhibited in Hanoi in 1902 for celebrations organized by Paul Doumer to commemorate the new capital of French Indochina.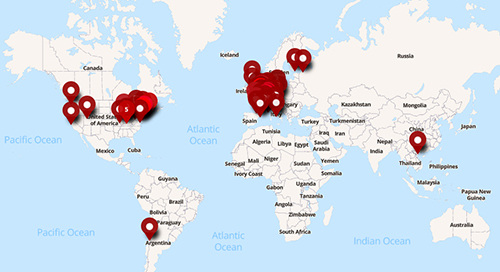 Click on the map to see where Léon Delachaux exhibited during his lifetime.
From 1919 to the present day
Léon Delachaux passed away on January 27, 1919. In 1938, with the support of Théogène-Pierre Chavaillon, his friend and curator of the Musée Saint-Vic in Saint-Amand-Montrond (Cher), Clarence Delachaux donated to the city twelve paintings and two drawings, according to his father's last wishes: "I would like my remaining work to be left intact and kept by you, my son, and your children, and later, if deemed fit, to be donated to a city in France to provide the seed for a [future] museum."
The result is the Musée Saint-Vic, which is now home to the largest public collection of Delachaux's work. The museum lends his work on a regular basis, as it did in 2017, when 45 works from its collection as well as those in private hands were presented to the public in the exhibition "Léon Delachaux, son œuvre saint-amandoise" (Léon Delachaux, work from his Saint-Amand period).
The towns of Grez-sur-Loing and Uzès have also publicly exhibited their collections of Delachaux's work.
In Paris, the Léon Delachaux Endowment Fund organized in 2014 the artist's first retrospective: "Léon Delachaux, au fil de…", an exhibition of eighty paintings and drawings, which took place in the salons or reception rooms of France-Amériques.
The mission of the Endowment Fund is to introduce Delachaux's work to the public. As a result, the Affectionate Mother (1881) participated in the 2018 exhibit "L'âge de raison vu par les peintres au XIXe siècle" (The age of reason seen through the eyes of nineteenth-century painters) at the Musée Fournaise in Chatou. And in 2019, The Banjo Player (1881), painted in the United States, crossed the Atlantic once more to join the last leg of the travelling exhibition organized by the Musée d'Orsay: "Le Modèle noir, de Géricault à Picasso" (The Black Model from Géricault to Picasso), in Pointe-à-Pitre, Guadeloupe (French Caribbean).